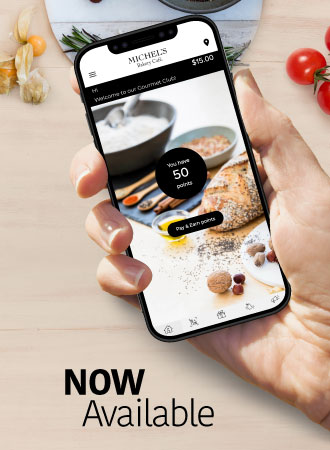 Desserts that taste like summer!
Strawberries, raspberries, blueberries, and blackberries on the menu. Tart and tartlet with pure butter, lemon cream, and fresh berries. And how about our Danish with cream cheese, strawberry coulis, and fresh berries? Don't wait! They will be here for a limited time only. Long live irresistible berries!
The complete summer salads menu!
We are proposing 3 new salads. Arugula with tomatoes, strawberries, almonds, and balsamic onions. A Caprese pasta salad. Orchietta pasta, tomatoes, bocconcini, kale, pesto, and a lemon vinaigrette. A Greek salad with coloured peppers, cucumbers, red onions, tomatoes, black olives, and feta cheese. Oh, so fresh!
Our summer drinks
Back by popular demand, our lemon/basil lemonade is here! This lemony classic with a touch of basil will refresh you. And how about our new strawberry lemonade? A classic lemonade with a fragrant touch of season strawberries. All you need to start the summer right. In participating stores for a limited time only.
Every purchase pays off!
What does it mean specifically? Earn 1 point for every $1 spent! More rewards, more exclusive offers, more FREE favourites, and more surprises just for you! Register now to start or continue (if you are already a Club Gourmand member) to collect points and redeem them for your favourites. And more surprises await you when you register.
Buy 5 pastries, get 1 Free!
Buy 5 pastries, get 1 Free: a perfect deal to start your day! Did you know that all our pastries are freshly baked and prepared on site daily? Making your day fresher is what makes our day at Michel's Bakery Café. Have a nice gourmet break. Offer is for a 6-pack price based on the average of a typical mix of 5 pastries.
Find a store
CATERER
At Michel's, we know you care about the food you eat and share with your colleages, friends and family. We also know how important your time is to you. Because you deserve the best of both worlds, Michel's offers you fresh and delicious food that arrives on time, all day long.
ORDER NOW