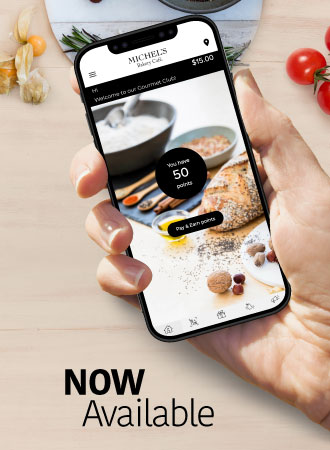 Our traditional Hot Cross bun is back!
These small, sweet breads full of spices, dry fruits and decorate with chou pastry will fill you with happiness. So, no need to hold back. They are delicious for dessert, in the morning for breakfast or even as a sweet afternoon treat. Hurry up to enjoy them. They are here only for a limited time.
It's Maple season!
Winter is almost done and, this means that our favourite season is back … Maple! Our pecan and maple tarts and tartlets 100% made of pure Canadian Maple syrup are now available in store. Your sweet tooth will be totally satisfied. Here for a limited time only!
A colourful spring!
2 new spring items to discover. The tuna niçoise sandwich on an olive ciabatta roll. Tuna spread, tomatoes, spring mix, hard boiled egg and you will feel like being by the ocean! And how about our savoury Danish? A fresh delight with tomatoes, pesto and melted bocconcini. Hurry! They will be available only for a limited time only.
Every purchase pays off!
What does it mean specifically? Earn 1 point for every $1 spent! More rewards, more exclusive offers, more FREE favourites, and more surprises just for you! Register now to start or continue (if you are already a Club Gourmand member) to collect points and redeem them for your favourites. And more surprises await you when you register.
Too Good to Go
We are proud to announce our partnership with Too Good To Go in effort to fight against food waste. With this initiative, we will eliminate almost all food waste in our Cafés. How does it work? Each day, our unsold items are offered at a reduced price with the Too Good To Go App to avoid food waster in our Cafés. In participating Cafés only. Will you join us to eliminate food waste?
Buy 5 pastries, get 1 Free!
Buy 5 pastries, get 1 Free: a perfect deal to start your day! Did you know that all our pastries are freshly baked and prepared on site daily? Making your day fresher is what makes our day at Michel's Bakery Café. Have a nice gourmet break. Offer is for a 6-pack price based on the average of a typical mix of 5 pastries.
Find a store
CATERER
At Michel's, we know you care about the food you eat and share with your colleages, friends and family. We also know how important your time is to you. Because you deserve the best of both worlds, Michel's offers you fresh and delicious food that arrives on time, all day long.
ORDER NOW